☑️ Effectiveness

WHAT IS IPL?

IPL, which is Intense Pulsed Light, a kind of broad-spectrum light formed by a collection of light with different wavelengths. The principle of IPL hair removal is the transformation of light energy into heat energy to destroy hair follicles, inhibit hair growth and thus achieve permanent hair removal.


WHAT ARE THE DIFFERENCES BETWEEN IPL AND LASER?
IPL stands for Intense Pulsed Light, a kind of broad-spectrum light formed by a collection of light with different wavelengths, unlike laser machines that emit a single spectrum of concentrated light in one single color. Both methods target the melanin in the hair follicle and can provide long-lasting results.

The main difference between the two is that laser hair removal has higher and more concentrated energy at a single wavelength, which effectively destroys the activity of hair follicles, but the process is very painful and the price of the equipment is exorbitant. And it is often recommended for darker skin tones that may not be suited to IPL treatment. Although IPL devices are not as efficient as lasers, they can achieve a similar hair removal effect after repeated use, safer, less painful, and allow you to treat yourself in comfort and privacy.


DOES IPL REALLY WORK?
Yes as long as you choose the right IPL hair removal device. A truly effective IPL device like MissPeachy at-home laser hair removal will break the cycle of hair growth by disabling the hair root/ follicle with a burst of light energy. Although most pulsed light devices are quite similar, they still have some significant differences that will affect directly the hair removal effect.


IS IPL HAIR REMOVAL SAFE?
Yes! it is safe to use provided that you strictly follow the user guide and use your IPL laser hair removal handset on a valid, safe skin tone. At-home IPL handsets are made to work at relatively lower energy levels compared with laser hair removal machines at beauty salons.


DOES IPL HURT?
Normally the pain sensation is equivalent to snapping a rubber band on your skin. The higher the energy intensity of the device, the more painful you might feel. We strongly recommend starting from Level 1 to get used to the intensity of light for the first time. If you are more vulnerable to pain and irritation, you can get an IPL device with the ice cooling function to reduce pain and irritation.


IS IPL HAIR REMOVAL PERMANENT?
With regular maintenance treatments to catch any pesky new hairs – yes! Rather, the correct term should be "permanent hair reduction". Unfortunately, permanent hair removal isn't really possible (sorry, folks). There's no one method that'll remove all unwanted hair permanently yet IPL will continue to prevent regrowth as long as you keep treating regularly. As for both at-home IPL and laser treatments (don't believe anyone who would tell you otherwise), one treatment won't last forever so it's crucial that you stay on top of top-ups to maintain results.

HOW LONG WILL IT TAKE BEFORE I START SEEING RESULTS?

MissPeachy won't work overnight and I don't believe there is a treatment that will. In most cases, you start to see a reduction of hair after as few as just 3-4 treatments, with up to 95% hair reduction after 6-8 treatments, resulting in smooth, hair-free skin as long as you keep treating regularly. However, results vary from person to person.


DOES IPL WORK FOR ALL SKIN TONES AND HAIR COLORS?
Since the flashes will be sent directly to the hair follicle, this type of hair removal device targets mainly melanin. Thus, IPL is only effective on dark hairs, including black, dark blonde, brown and dark brown hair. It is not applicable for use on red, grey or very light (blonde) hair.
With regard to the skin tone, our IPL handsets serve better on naturally white to slightly dark skins (Fitzpatrick Skin Tone I to V). Due to the risk of burns, people with very dark skin (Fitzpatrick Skin Tone VI) are deprived of this procedure.
Take a quick look at the chart to find out whether you're suitable – and remember we offer a 90-day money-back guarantee in the unlikely event that you don't see the results you'd hoped for.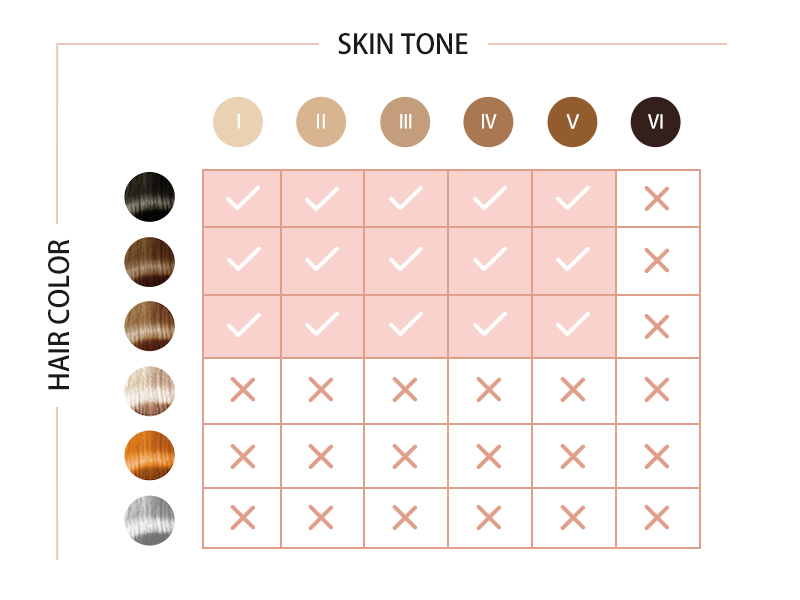 DOES THE IPL DEVICE WORK FOR PEOPLE WHO HAVE PCOS?

Yes, all the MissPeachy at-home laser hair removal devices will work for people who have PCOS.


🪒 Operation
HOW OFTEN DO I HAVE TO USE MY IPL HAIR REMOVAL HANDSET?
Due to the different hair growth cycles, at least 6-8 treatments are recommended on average, spaced out according to the growth cycle. You should use it at least once a week in the first few weeks to ensure all hair follicles are treated. During the initial treatments, you will still see some hairs growing. Relax, things will only get better from here on in – so keep it up! After about the sixth treatment, you should be seeing a reduction in hair regrowth and you'll still need to continue with top-ups biweekly. The time it takes to complete a full program varies from person to person and the location of the hair on the body, but is typically 12-24 months.


| | |
| --- | --- |
| Period | Suggestion |
| 1-4 weeks | once every week |
| 5-8 weeks | once every 2-3 weeks |
| 8 weeks or more | once every month |
CAN I SHAVE IN BETWEEN TREATMENTS?
Yes you can. We'd actually recommend you to shave before and in between treatments for a safer experience and better result. But we do not suggest you wax off, pluck out or tweeze your hair during the treatment process.


Do I HAVE TO SHAVE BEFORE EACH TREATMENT?

It is necessary to shave the area you want to treat before using your MissPeachy handset every time. Your skin should be clean and dry before each irradiation. If the depilated area is not clean, you may experience redness and burns and it will affect the effectiveness of the treatment.
DO I HAVE TO WEAR PROTECTIVE GLASSES IN THE COURSE OF TREATMENT?
It is necessary to wear protective glasses in the treatment process and all our products come with a pair of complimentary protective glasses to prevent your eyes from being stimulated by strong light.


IS IT NORMAL FOR THERE TO BE A BURNING SMELL DURING USE?
The smell of burning when in use indicates that the treatment area hasn't been properly prepared for treatment. Before treatment, you need to shave and keep your skin clean and dry. Also, it is suggested to start from LEVEL 1 to get used to the intensity of light for your first treatment and gradually enhance the energy level when you get used to it. Make sure you strictly follow the above instructions and if it still has a strong burning smell, please discontinue use and contact us.


📦 Maintenance
HOW SHOULD I CLEAN MY IPL HANDSET AFTER EACH USE?
Carefully wipe with a cotton swab or cloth lightly moistened with water or alcohol and ensure that the optical filter is undamaged after each use. Do not rinse the device and accessories directly with water. Please see your user guide for further guidance.


✅ Warranty

DO ALL PRODUCTS COME WITH A WARRANTY?
We have full confidence in providing you with the most professional at-home IPL Hair Removal Handset in the world but we still get that sometimes things just don't work out, however much we want them to. That's why we are proud to offer a 90-day 100% money-back guarantee on all of our products, even after you've already tried them. With 90 days to really get to grips with your IPL device, what have you got to lose?


For more enquiries or questions, please don't hesitate to reach out at support@themisspeachy.com.


SHOP IPL