We all dream of smooth and perfectly depilated skin without having to worry about troublesome appointments and long waits at a beauty salon's reception office.
Thus, investing in a professional at-home hair removal device is the best way to get rid of those unwanted hairs from our bodies, and save you time, money, and discomfort.
But because this type of device cannot be purchased without some research, in order to help you make the best choice, we will provide you with all the criteria to take into account before purchasing an IPL hair removal handset.
Now let's have a look at what main points it contains when choosing an at-home IPL hair remover:
The Compatibility of the Epilator with the Color of Skin and Hair
Since the flashes will be sent directly to the hair follicle, this type of epilator targets mainly the melanin. Thus, IPL is only effective on dark hairs, including black, dark blonde, brown, and dark brown hair. It is not effective for use on red, grey, or very light (blonde) hair, such as peach fuzz on face.
With regard to the skin tone, our IPL epilators serve better on naturally white to slightly dark skins (Fitzpatrick Skin Tone I to V). Due to the risk of burns, people with very dark skin (Fitzpatrick Skin Tone VI) are deprived of this procedure.
Take a quick look at the chart to find out whether you're suitable – and remember we offer a 90-day money-back guarantee in the unlikely event that you don't see the results you'd hoped for.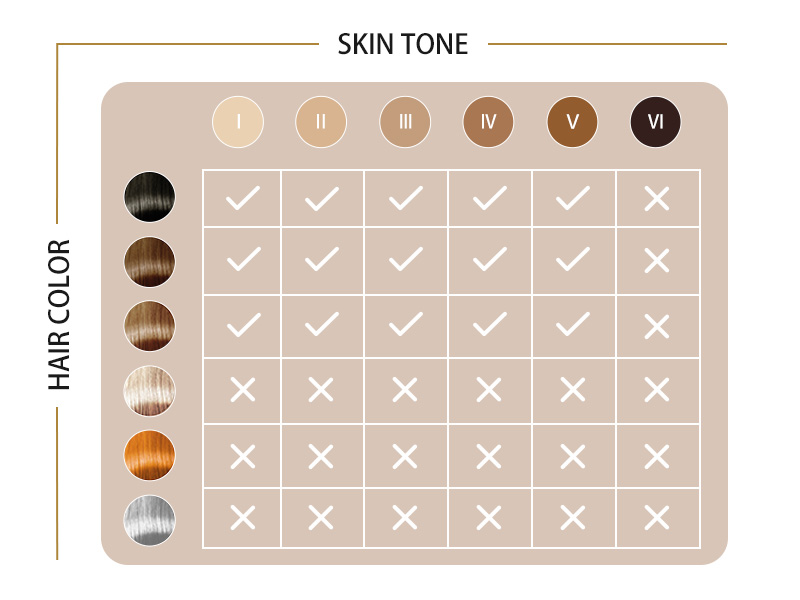 Wavelength
The key point of effectiveness and safety of hair removal is that the light beams are selectively absorbed by the melanin of the hair follicles to the maximum extent, and at the same time try not to be absorbed by other tissues such as blood or epidermis.
Spectrum lights are measured as wavelength (nm), for example, 600 nm wavelength means this spectrum light can penetrate 600 nm deep beneath the skin. Wavelength determines the accuracy of optical energy and is considered as one of the determining factors of the hair removal effect. Only when the wavelength meets a certain criterion, can the light be selectively absorbed by the hair follicle rather than the blood or epidermis. A professional IPL hair removal handset usually uses a red optical filter with a wavelength above 600 nm, and the red light beams are efficiently absorbed by the melanin of the hair follicles without causing damage to the skin. Most hand-held hair removal devices on the market usually use yellow optical filters (475-530 nm). They are smaller in size and easier to hold but the effect and safety of hair removal only meet the baseline and are relatively poorer compared to those with red optical filters.
The FDA affirms that any IPL hair removal device with a wavelength below 500 nm is underproof because it is very likely to produce severe adverse skin reactions or side effects. Due to cost reasons, most of the low-quality IPL hair removal devices on the market use cheap optical filters, which harms your skin invisibly.
A wavelength below 500 nm will even pose a risk of retinal thermal injury in the event of safety switch failure or accident emission of light from the edges of the aperture.
All our IPL hair removal devices can guarantee a wavelength above 500 nm and facilitate a long-term reduction of hair growth leading to hair-free and smooth skin but the efficiency of hair removal varies from person to person according to the skin type and how the device is used.
Energy Per Flash
Energy per flash stands for energy fluence, which is regarded as another key parameter of the hair removal effect. The energy per flash of pulsed light epilators is expressed in "Joules", which varies between 3 to 9 joules per cm².
Authoritative papers indicate that the energy fluence of the IPL hair removal epilator needs to reach at least 5 J/c㎡ to cause tissue changes in the hair follicle to damage the hair follicle, prevent hair regeneration, and achieve permanent hair removal.
When the pulse width and wavelength are appropriate, the greater the energy, the greater the damage to the hair follicle, the more permanent the hair removal effect will be, but the corresponding pain will be more obvious.
With the lower energy fluence, only slight damage to the follicle might merely result in temporary hair growth delay by moving the hair into the transitional Catagen (shedding) or Telogen (resting) phase.
All our IPL hair removal devices can boast more than 5J/c㎡ of energy per flash and are efficient and powerful leading to hair-free and smooth skin but the efficiency of hair removal varies from person to person according to the skin type and how the device is used.
Number of Light Pulses
The number of light pulses determines the lifespan of your epilator. Normally the more flashes the device has, the higher the price will be. In general, an IPL epilator with 500,000 flashes is enough for lifelong treatment. It is more profitable to invest in a device that has a maximum number of light pulses to ensure that it will serve you longer and better.
Window Size
The application window is the glass surface that will be directly in contact with your skin in the treatment process. The wider the window, the larger the area it will cover and the more even the light it will distribute, which can reduce the risk caused by the dissymmetry of the flashlamp arrangement. It is important to know that uneven energy distribution may cause skin burns, blisters, and pigmentation, increase treatment time, and even cause abnormal hair growth.
But your choice will also depend on the parts of your body that you need to treat. If you are looking for an IPL epilator to tackle smaller or trickier areas like lips, armpits, and the bikini line, we recommend a device with a smaller window between 2 cm² and 3 cm².
If you want to treat larger areas, such as legs, arms, and back, we recommend that you choose a device with a wider treatment window ranging from 4cm² to 7cm², to allow you to finish the treatment more quickly each session.
If you are looking for a comprehensive treatment, then you can choose a device with several different window sizes to satisfy different body parts.
Power Mode: Mains-powered or Battery-powered
There are IPL epilators that are mains-powered or battery-powered. Normally, epilators that are mains-powered offer a high and constant power, which allows you to enjoy uninterrupted treatments with maximum power, while with the battery-powered ones, the power can sometimes be reduced. However, the wire in the mains-powered device can sometimes be annoying, especially when you tackle smaller or trickier areas. Cordless epilators are much easier to handle and use especially for sensitive and delicate areas. If you'd ask for my opinion, don't hesitate to invest in an IPL epilator that has higher and more constant power.
Flash Mode: Glide Mode or Stamp Mode
An IPL epilator with two flash modes can satisfy your demands on different hair removal parts. The stamp mode (manual mode) is mainly used for small and sensitive areas such as bikini lines, armpits, lips, buttocks, etc. The glide mode (auto mode) with continuous flash can be applied to larger areas such as arms, legs, stomach, and back.
Now that you've already been aware of what you should pay attention to when purchasing an IPL epilator, here is the comparison diagram about the main points of our IPL devices for your information. Prices vary according to the features and characteristics of each model. It is obvious that an entry-level epilator will not have the same technical parameters and qualities as a high-end one, so it is sensible to choose the best one within your budget.